Dear supporter of the Danish Roadbook
WE WILL DO IT AGAIN – PRODUCE THE BEST RMCH-ROADBOOK EVER
    Also in 2024 we will be able to deliver our wellknown set of roadbooks for the Rallye Monte Carlo Historique, as we with great succes have done in several years now.
    Our preparations are already in progress.  As soon as AMC has released the exact route, we will start up the detailed work. The roadbook will be measured and prepared on location by an experienced team consisting of Tage Gejl and Jan Søndergaard, so we believe that we again in 2024 will have a good basis for success in RMCH.
In 2020, our roadbook were used by the winning team, Henrik Bjerregaard and Mirek Svêc in Ford Escort RS 2000.
If you want to use our service,
I must ask you to register on www.sportsignup.dk (if you have not already done so)
This way, I'm sure not to forget anyone.
Best regards, the roadbook-team,
Arne Pagh
Fuglebakken 6, Strib
DK-5500 Middelfart
0045 5085 8701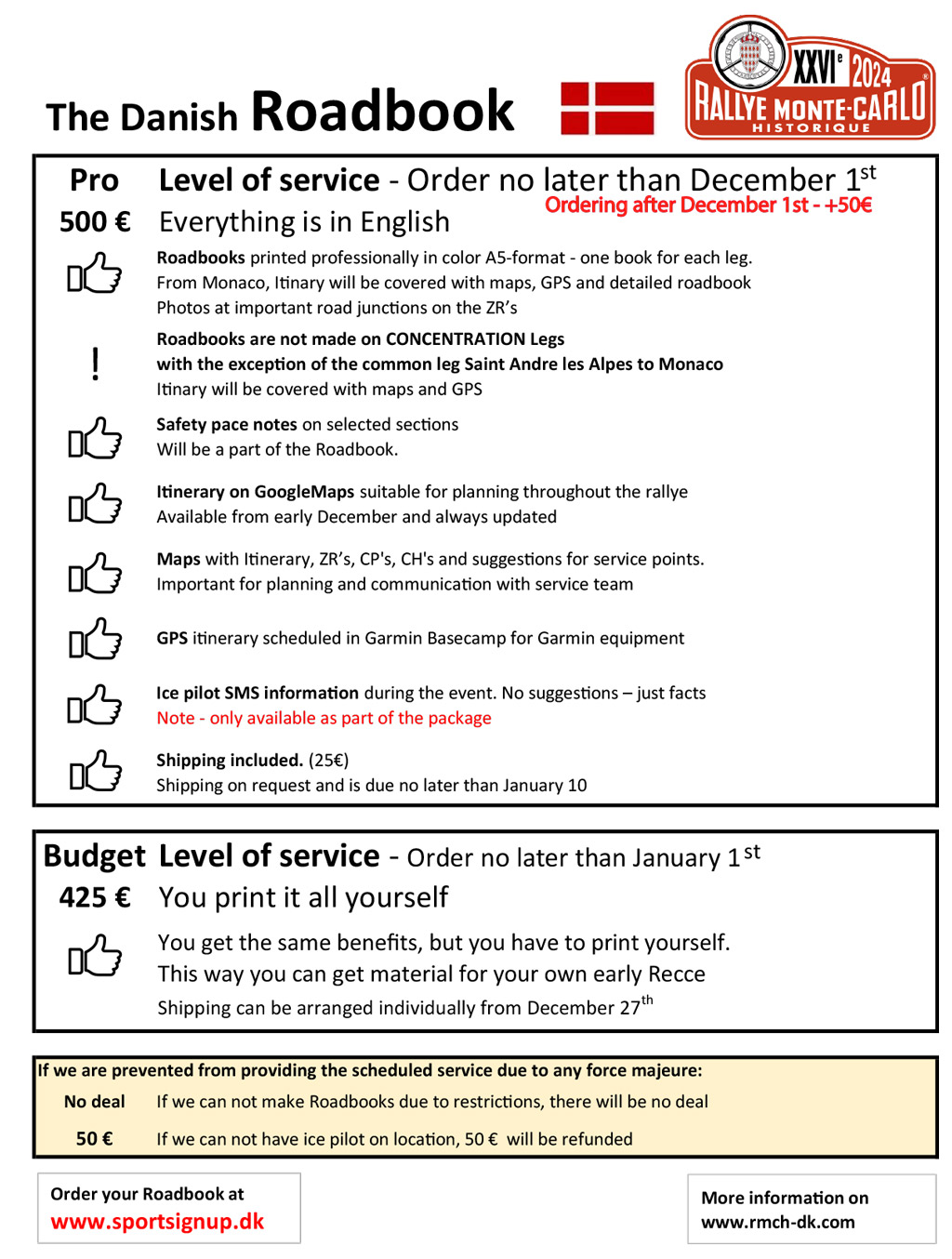 Instructions for the Using The Danish Roadbook, Garmin GPS and Maps CLICK
Registration for The Danish Roadbook will require 2 steps, to minimize fraud.
All attempts to register will be logged with your IP Address, so we can track You.
On this first screen You must give Your Contact Id (Your Name or other) and Your Contact Email address.
If You register for more than one Car, I advise You to give each of Your Cars a unique Nickname, and use that Nickname as Your Contact Id. Otherwise use Your First Name.
Examples: Ford, XP12345, Ascona, Peters Car, etc.
When You enter the SEND button, Your Registrationprocess will begin.
You will then receive a Mail in Your Mail INBOX.
This Mail will contain a Link. Click on the Link to proceed.
You will be directed to a new Screen, where You must enter Your personel data.
For corrections or status check, You can use the received Link.
If You have lost your Mail with the Link, just enter Your Contact Email address in above field, and press the ReSend Button.
You will receive a new Mail with above link, one Link for each of Your Registrations.
Order your roadbook at: www.sportsignup.dk
Your Registration is ONLY VALID when CONFIRMED and PAYMENT RECEIVED.