The Corona situation has now developed so dramatically that we are unable to provide the service we usually do.
It also has the consequence that most Danish teams have already decided not to participate in the Rallye Monte Carlo Historique. You probably also have your considerations.
Opportunity to participate may depend on local conditions and where you live on a daily basis.
It will not surprise us if ACM will have to cancel RMCH 2021, but if RMCH runs as planned, we would like to help our supporters if requested.
Details for the Covid19 development from August to October can be seen here.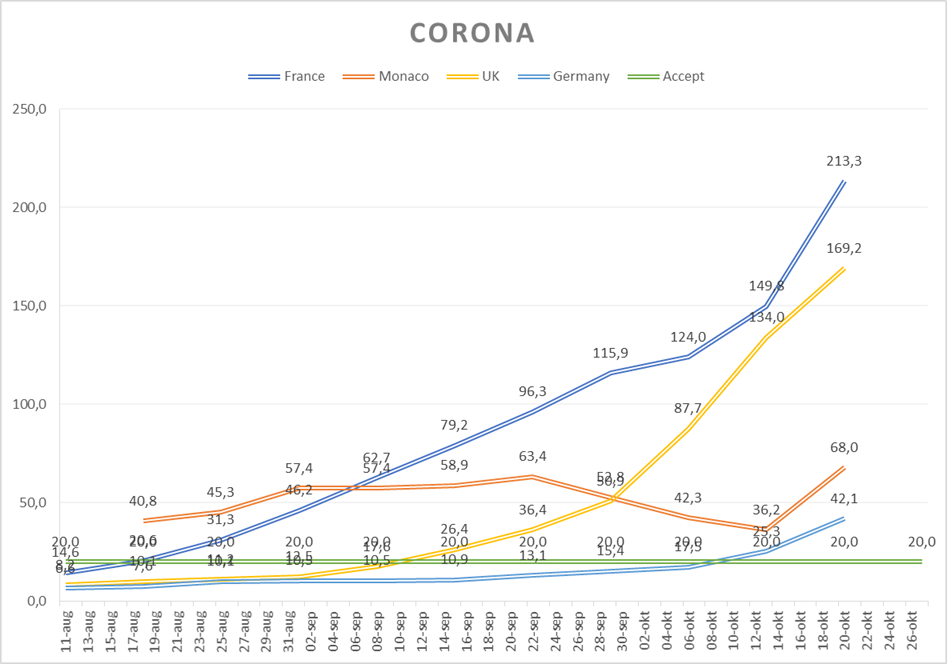 We look forward to a more normal future, and wish all the best for you – stay safe
We have carefully assessed what support we can provide under the current conditions and up to the end of January.
If you want to use our support, we can offer the following: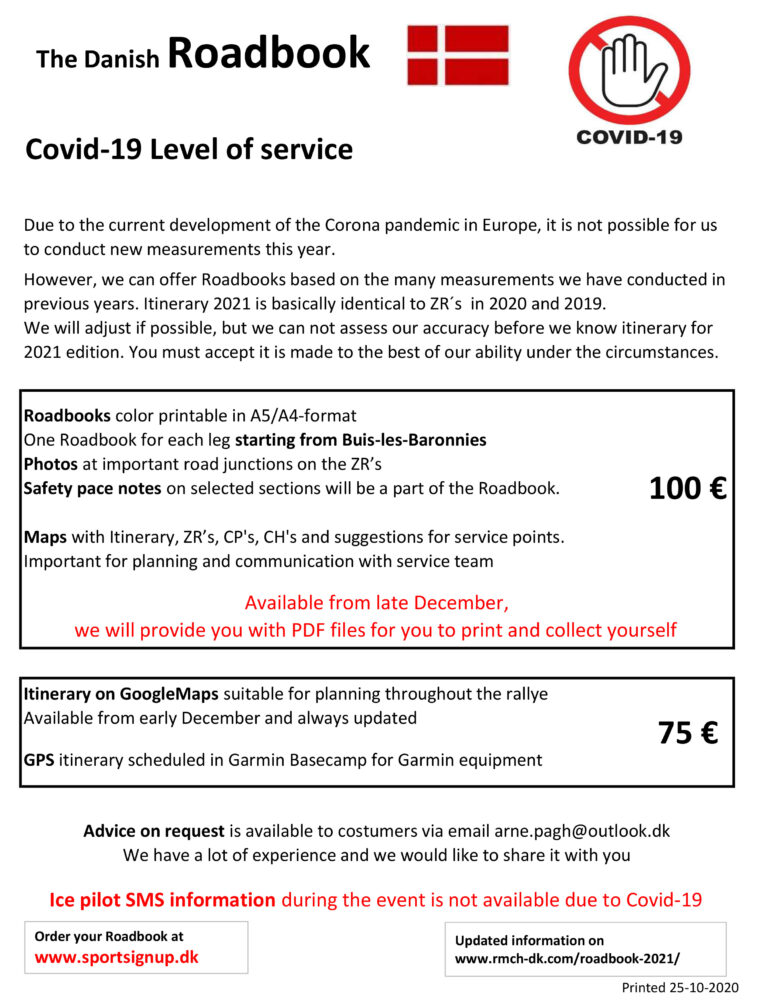 Instructions for the Using The Danish Roadbook, Garmin GPS and Maps CLICK
Registration for The Danish Roadbook will require 2 steps, to minimize fraud.
All attempts to register will be logged with your IP Address, so we can track You.
On this first screen You must give Your Contact Id (Your Name or other) and Your Contact Email address.
If You register for more than one Car, I advise You to give each of Your Cars a unique Nickname, and use that Nickname as Your Contact Id. Otherwise use Your First Name.
Examples: Ford, XP12345, Ascona, Peters Car, etc.
When You enter the SEND button, Your Registrationprocess will begin.
You will then receive a Mail in Your Mail INBOX.
This Mail will contain a Link. Click on the Link to proceed.
You will be directed to a new Screen, where You must enter Your personel data.
For corrections or status check, You can use the received Link.
If You have lost your Mail with the Link, just enter Your Contact Email address in above field, and press the ReSend Button.
You will receive a new Mail with above link, one Link for each of Your Registrations.
Your Registration is ONLY VALID when CONFIRMED and PAYMENT RECEIVED.
Click on this line, for ordering the Danish roadbook at sportsignup.dk